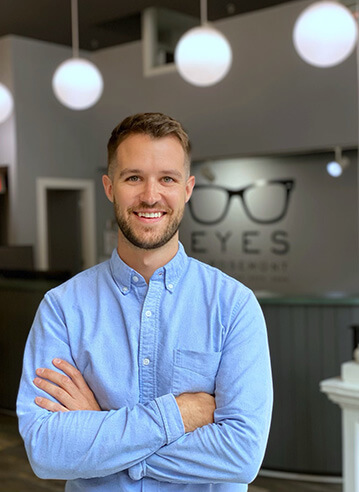 Dr. Shane Stevens completed his Bachelor's degree in Medical Biology at the University of New England in Biddeford, Maine in 2014. He then attended the New England College of Optometry in Boston graduating with his Doctor of Optometry degree in 2018. After graduation Dr. Stevens completed a residency in ocular disease and primary care at the Veteran's Affairs Hospital in White River Junction, Vermont. Upon graduation he was awarded the New England College of Optometry Alumni Scholarship for dedication to the optometric profession and for and exemplary record of community service. While in school he also served on multiple mission trips to South America and Africa. Shane is a New England guy who grew up in Newburyport, Massachusetts and has been working in York County since August of 2019. He lives in Portland and in his spare time enjoys hiking, camping, drawing, and skiing.
Bachelor of Medical Biology 2014, University of New England – Biddeford, ME
Doctorate of Optometry, 2018, New England College of Optometry – Boston, MA
Residency trained at Veteran's Affairs Hospital – White River junction, VT
Worked in York County – 2019-2021
Joining Eyes on Rosemont – June 1st 2021
Please join us in welcoming Dr. Shane Stevens to the practice.