Posted by: Eyes on Rosemont in Newsletters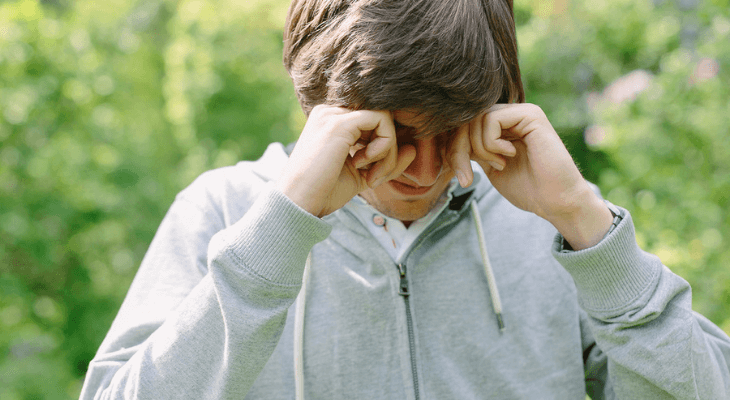 How to Deal With Foreign Objects in Your Eye
Whether it's a speck of dust or a bug, getting something in your eye is a very uncomfortable sensation. Like most people, rubbing your eyes may be your initial reaction to the problem. Unfortunately, that may only make the situation worse and may damage your sensitive eye tissues. So what should you do when there's something stuck in your eye?
Wash Your Hands
When your eye is watering and you can barely see, washing your hands is probably the last thing on your mind. Unfortunately, if you don't wash your hands before touching your eyes, you may be more likely to develop an infection or increased eye irritation from dirt, dust, or debris.
Take a Good Look at Your Eye
It's not easy to get a piece of sawdust or sand out of your eye when you're not sure if the speck is stuck to the side of your eye or is trapped by your upper eyelid. If opening your eye is difficult, you may need to ask a friend to gently lift your upper and lower eyelids to find the foreign object. Moving your eyes up and down or from side to side may make it easier to find the foreign body.
Remove the Object or Substance Safely
Some foreign bodies can be removed simply by gently pulling your upper eyelid over the lower one. If that doesn't work, flushing your eye with eye drops can be helpful. Flood your eye with the drops, then blink a few times to help the object exit your eye.
A cotton swab or a cotton ball may make it easier to remove something from your eye. Pour a few eye drops or a small amount of saline solution over the swab or cotton ball, then gently place the cotton against the object. When you remove the cotton, check if the object is now stuck to it.
Don't use a swab or cotton ball if the object is stuck to your cornea, the clear, rounded layer of tissue over your iris and pupil. Touching this area could damage or scratch the cornea, causing a painful scratch. See your optometrist if you can't easily remove the foreign body.
Do-it-yourself removal isn't a good idea if a piece of glass or metal is stuck in your eye or an object has penetrated your eye. If you try to remove the object yourself, you could cause permanent damage to your eye. Call your optometrist immediately or go to the emergency room if this happens.
How to Handle Chemicals In Your Eye
Chemicals in toilet cleaner, bleach, battery acid, dishwasher soap, paint, and other products can irritate your eye or cause burns and damage. Flushing your eye with water is a must if this happens. Hold your eye under the faucet or shower for at least 15 to 20 minutes if this happens. Go to the emergency room or call 911 immediately if your eye has been exposed to a caustic chemical.
When a Contact Lens Is Stuck in Your Eye
Is your contact lens trapped under your upper eyelid? One of these techniques may help dislodge it:
Use artificial tears or eye drops to unstick the lens and move it downward
Pull your eyelid up gently while looking down
Place your finger on the outside of your upper eyelid and gently push the lens down (stop if the lens doesn't budge)
Let your optometrist know if you can't safely remove a stuck object or have any of these signs or symptoms after removing a foreign body from your eye:
Vision change
Pain
Bleeding
Change in the size of your pupil
Trouble moving your eye
Your eye sticks out more than usual
Difficulty opening or closing your eye
A feeling that something is still stuck in your eye
Whether there's something stuck in your eye or it's time for your next vision exam, we can help you protect your vision. Give us a call and let us know how we can help you.
Sources:
All About Vision: How to Safely Remove Something from Your Eye, 11/21
WebMD: What Should You Do When You Get Something in Your Eye?, 6/21/20
Medline Plus: Eye – Foreign Object In
NCBI: Small objects in the eye: Overview, 5/25/20
American Academy of Ophthalmology: How Do I Get a Contact Lens Out from the Top of My Eye?, 9/18/12
---